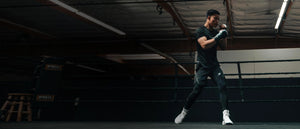 Boxraw Careers

Underpinned by the tenets of the boxing lifestyle - discipline, mindfulness & love - BOXRAW was founded in 2017 to represent an attitude toward life. Paying homage to boxing culture, the people and the community; we're on a mission to demonstrate the power of boxing to the world and become a badge of pride that says 'I'm fighting for something.'
Change The Game
We produce game-changing boxing equipment, training, and athleisure wear for those who fight to compete, those who fight to stay fit and those who are fighting for something. In every mind is a fighter and we accompany every boxing journey; whether it's to grow confidence, strengthen fitness, or become a World Champion.
Change The World
Working with boxing's elite, we have had monumental collaborations with some of boxing's very best across some of the greatest events in history. Our DNA of continuous innovation and relentless pursuit to Find A Way has enabled us to assert impact beyond our age and size. We're here to create, shape and own the boxing industry with an objective to generate >£100m in revenue within 5 years.
Here To Win
The reason for our early success is our people. We believe in talent and passion. We look for dedication and energy. We encourage creativity and innovation. We don't care where you come from. We care where you're headed. If you're fuelled to be part of a movement that truly appreciates diversity, smart work and a growth mindset then we'd love to hear from you.